London, United Kingdom
Our understanding and comfort with the visual language of commercial beauty and our abstract notions of time are both reinforced and dismantled when viewing the work of Gabriele Beveridge. Recontextualized chrome shelving systems draped with handblown glass vessels, and sun faded beauty counter posters pulled from shops and paired with found rocks or stones look all at once familiar and slightly off.

What is no longer and what has never been?

Gabriele's practice seems to be one of pulling together, reframing, and rearranging the every day objects we encounter that create desire. I was curious about her studio practice and specifically her recent time working in Italy.

I'm interested to hear how your studio practice translated to your time at the Villa Lena Foundation Artist Residency in Italy this past year. Did you find that the new environment allowed for new things to enter into how you work?

I'd decided to keep an open mind. I didn't have advance thoughts or ideas regarding my plans for the residency and in fact did not use the studio very often. Instead I set up a makeshift darkroom in the bathroom of my bedroom which became my base for experimentation, i.e. playing around with darkroom chemicals on photographic paper and then exposing them to the bright Tuscan sunlight. The nature surrounding Villa Lena was incredibly inspiring. The villa is located in the hills but in prehistoric times this area was under the sea and you can still come across an abundance of shells and fossils. My prints ended up looking almost like seascapes or rolling Tuscan hills.
What did you learn from your time there? Did anything unexpected or surprising occur in the way you work, or in what work you made?

Definitely, I had never given this amount of time exploring photograms or realized the possibilities before. In fact I had not used a darkroom for many years. I learnt that it was a definite advantage to leave my comfort zone - my studio and fabricators and typical ways of working in London - to be essentially in the middle of nowhere and discover a new process.
A lot of your work incorporates found objects, what is the process in sourcing things? How do they live in your studio until you use them in a piece?

I find the posters in windows of hair and beauty salons. They have often been displayed for some time and are faded by the sun. I have to walk in and ask for them and am frequently turned down. And yes, they do usually live in my studio for some time before going into a work and sometimes might not end up being used because they don't feel right. The way I source items varies - sometimes I go out specifically to find something, and sometimes I will stumble across things. The rocks for example, may be found in their natural environment, or I may have to go to a new age crystal shop to look for something particular.
You have talked about how you like that the rocks have an "energy field around them". Can you talk more about this?

It's a general interest in what I would describe as their romantic nature that draws me to geological forms. There's an enigmatic stillness that resides in them – an energy unique to themselves. They also reference a kind of new-age bohemian spiritualism – a desire to establish a connection with nature, perhaps. The sense of nostalgia inherent in faded photographic advertisements when combined with hard and permanent materials such as rocks, affords an uncanny distortion of time.
The marble, metal and glass components of your work are fabricated by other people, how do you find this collaborative process informs how you see your artistic practice as a whole?

Working with fabricators doesn't really inform my work, as with the other elements. It is simply a matter of searching, acquiring, and finally assembling these different objects. I see them all as found material in a way, including finding people who can make certain things in a certain way to fit certain ideas. I've learned that ideas about materials are often hard to translate as words, or instructions. Many of the works I have fabricated come about after a period of dialogue and experimentation.
What are the things that are important to you in your work?

Precision, sensitivity, mystery.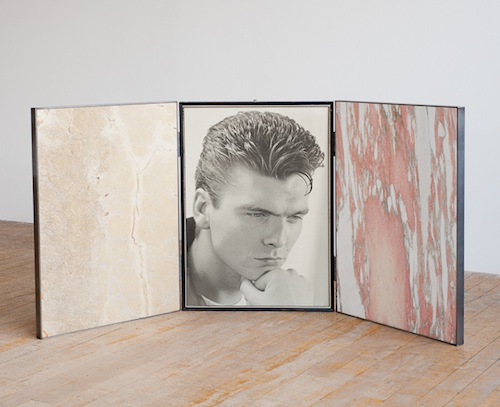 Thank you Gabriele!
gabrielebeveridge.com
@
gabrielebeveridge
Photos courtesy of the artist